Monday, July 17, 2017
Jet Plane and Oxbow memorial charity auction
This week, we're auctioning off five special artifacts from last year's Jet Plane and Oxbow tour (including one of those laser gloves) to raise money for organizations who fight injustice, inequality, and corporate greed every day.
---
Tube Light
This is one of the fluorescent lights we used onstage on the JPOB tour (and even lugged in to all our radio appearances); we painted the top and base of each one black and equipped them with special colored gels found in Chinatown; this one is green. The light sits in its own tripod stand, uses very little electricity, doesn't get hot, and can be daisy-chained to other lights through a 3-prong outlet in its base. Takes 36W T8-size bulbs (comes equipped with one).
We loved these lights and couldn't believe how good they always looked in pictures, or how much we were able to put them through on the tour (I think we only broke two). I even hooked a couple of them up to the van at the Bears Ears on our way back from the West Coast tour to camp SW-style.
NOTE: This item can only be shipped in the lower 48 states.
---
Lodger signed LP
This is one of the very last copies of our limited-vinyl pressing of our AV Club live performance of David Bowie's Lodger album (only 500 were made), signed by every member of the JPOB touring / Lodger recording lineup.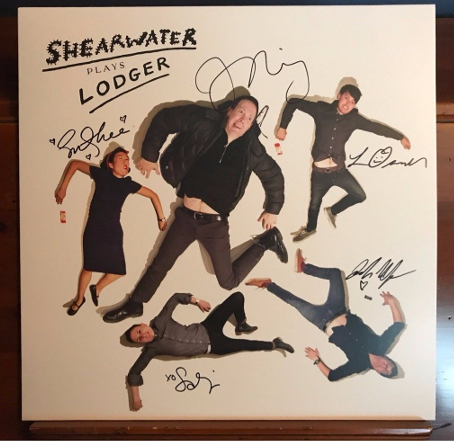 ---
Lodger test pressing
This is one of three test pressings made for the Lodger LP by RTI from the lacquer cut by Ray Janos at Sterling Sound. Still in its original packaging. Signed by me.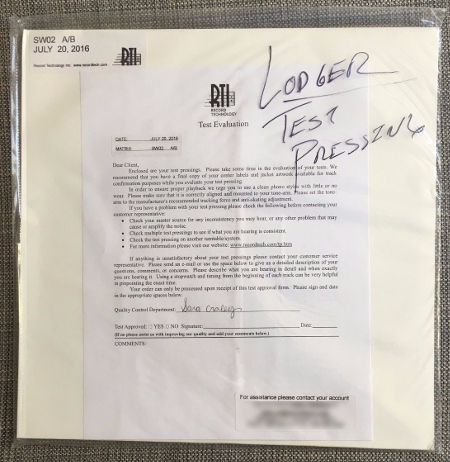 ---
Laser Glove
One of the laser gloves I used in every show of the JPOB tour; I bought them from a supplier in Hong Kong who appears to make them by hand. This glove does still work: one switch triggers a bright white LED in the palm, and the other triggers five separate lasers with splitter filters that separate them into multiple beams. It comes with a charger and a rechargeable battery.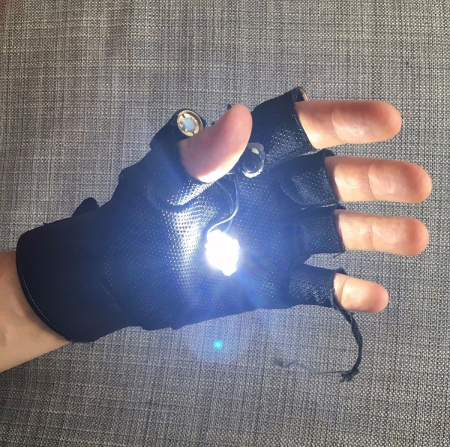 However, please note: This is a much-loved and much-used item, and was fragile to begin with; the lasers are dimmer than they once were, and Lucas had to re-solder some of the connections a few times, so its value is definitely more historical than functional. Comes with a certificate of authenticity.
---
"Science is not an Opinion" sign
One of the SW-themed signs we carried in the Women's March in DC. This one was made and carried by JPOB touring member Emily Lee, and became accidentally semi-famous: a picture of it was featured in the Washington Post in a cover story about the Science March.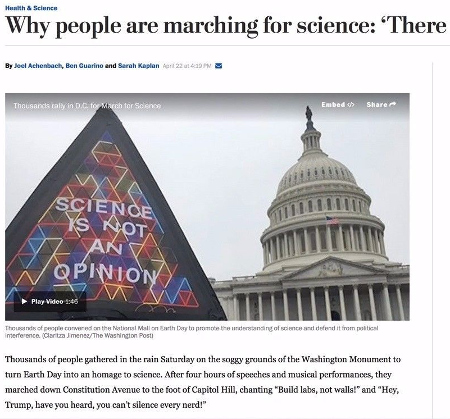 ---
All proceeds from this auction, after shipping, will be divided evenly among three great organizations who are working to combat the forces of ignorance, inequality, and injustice: the Equal Justice Initiative, Earthjustice, and the International Rescue Committee.
Each item also comes with a free download of The Sky is a Blank Screen, a SW sticker, and a personalized thank-you note.
Let the bidding begin!
All best, and, as always, many thanks for your support.
JM/SW