Wednesday, February 5, 2014
2014 'Fellow Travelers' Tour Starts Here + Missing Islands
First, a present to you, loyal listeners: 
We recorded it in WNYC's studio during the Animal Joy tour for use on Radiolab's "Colors" episode, in which you can hear a fragment as part of the segment "The Perfect Yellow".
But the whole track never surfaced, which was too bad; David Gaume, our sound engineer, spent hours trying valiantly to mix it in the back of the van on headphones while we were tearing up the road to Ohio. I think we ended up playing it back over the studio monitors in the public radio station in Columbus to see if we could hear the bass (answer: sort of—and it's my old friend and neighbor Peter Lettre, who subbed for Christiaan on the first shows of that tour). I rewrote the song (except for the first verse) to suit the theme of the episode, so most of the colors make an appearance in it.
There's a lot to report:
1) NEW TOUR.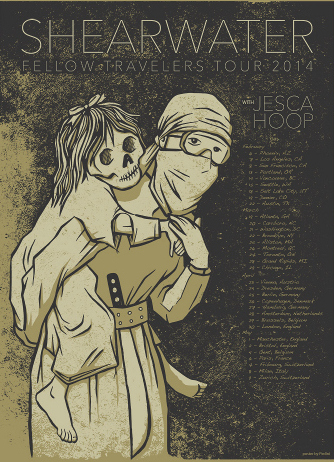 The Fellow Travelers tour is about to begin on the west coast of the USA – our first time on the road since the Animal Joy tour ended in 2011. See right, or the Tour Dates page, for dates and places.
We're bringing our friend Jesca Hoop (you gotta hear her play "Tulip" with Erika of Heartless Bastards at Danny's) along for the tour. Jesca joined us in Europe on some dates in 2012 and appears on Fellow Travelers, and in addition to opening the shows, she'll be playing in the band. The last time she was in a band she was singing backup for Peter Gabriel on his New Blood tour, so I've got some big shoes to fill.
On the eastern tour, we'll also be joined by our labelmates Death Vessel, whose beautiful new album Island Intervals, recorded in Iceland with members of Sigur Ros and their producer Alex Ross, comes out February 25.
Touring members of this lineup are Danny Reisch and Lucas Oswald (veterans of Animal Joy) and Abram Shook, whose Danny-produced solo album was recently released on Western Vinyl.
2) MISSING ISLANDS.
Regarding tour merch – in addition to T-shirts, vinyl LPs, and 7″s (including the Low split and the Mountain Goats/Angels of Light covers we issued with preorders of Fellow Travelers) and the limited-edition silk-screened poster you see above, by old friend Mark Pedini, we'll have a "new" tour-only release: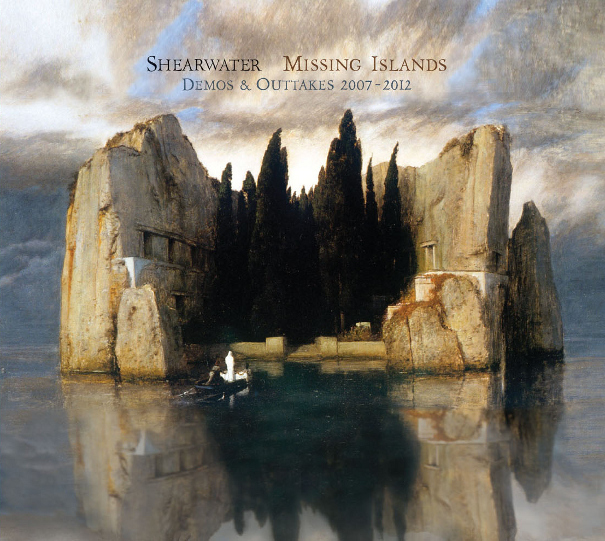 Missing Islands is a 20-track collection of demos and outtakes from the sessions for Rook, The Golden Archipelago, and Animal Joy, spanning the years from 2007 to 2012. Most of these recordings, which range from home recordings of me playing alone to full-band explorations, have never been released in any form, and they catch the songs halfway between sleeping and waking; it also features some songs that never made it out of the incubator, and the sound of Thor fighting a mighty (but deceased) oak tree (he won). The tracklist is up on our Music page. You can read some liner notes I wrote about the release right now.
3) NEXT ALBUM.
At this writing, we've just finished a week of work in Austin on the next album, which we'll pick up again after the tours. All I can really say about it right now is that it's unlike the previous records (including Fellow Travelers) in a way that's very exciting and interesting to us. But if you're curious about it, we'll be road-testing some of the songs on the upcoming tours–the first time we've done that in five years.
It was great to be back in Texas; to combat the great-indoors experience of studio work (and get prepped for the road) I spent the nights in my tent on an old friend's porch, remembering how dreamy and mild the Austin winters can be.
Looking forward to seeing you out there –
JM/Shearwater