Tuesday, March 6, 2012
Them's the Boys (+ SXSW 2012)
With the first tour under our belt, I wanted to belatedly introduce the members of this year's touring lineup. (Kimberly and Thor are sitting this one out, but are still very much part of the family and a huge part of Animal Joy).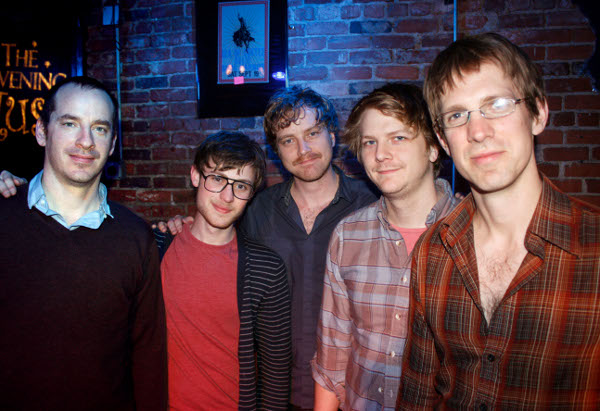 From left to right:
Mitch Billeaud, of Austin band The Lemurs, on guitar and keys,
Lucas Oswald (of Minus Story, Hospital Ships, and The Appleseed Cast) on guitar, keys, and backing vocals,
Danny Reisch (also of the Lemurs, and the producer of Animal Joy) on drums, and
Christiaan Mader (of Brass Bed) on bass and backing vocals.
It's a different sound and feel for the band – more of a "rock" outfit than SW has been on previous tours – but it fits well with the sound of the new album, and it's been fun to tear it up a bit. When you see us this year, these'll be the faces you see.
Next: SXSW. Europe. And the US again. (JM)
(photos © 2012 Daniel Coston/www.danielcostonphotography.com)
—
Our full SXSW show schedule:
Sunday 3/11:
5pm @ Waterloo Records, 600 N. Lamar Blvd.
Monday 3/12:
1pm @ French Legation, 802 San Marcos St.
Wednesday 3/14:
2pm @ Hypemachine Hype Hotel, 504 Trinity (JM and Lucas duo set)
5pm @ Parish, 214 East 6th St.
Thursday, March 15, 2012
7:30pm @ Mellow Johnny's Bike Shop, 400 Nueces St.
1am @ PureVolume House, 504 Trinity Street (technically Friday early morning)
Friday, March 16, 2012
12:25pm @ Radio Day Stage – Austin Convention Center, 500 East Cesar Chavez
3:50pm @ Roky Erikson Ice Cream Social, Threadgills, 301 West Riverside
11pm @ Red 7 Patio, 611 E 7th St (Sub Pop Showcase)